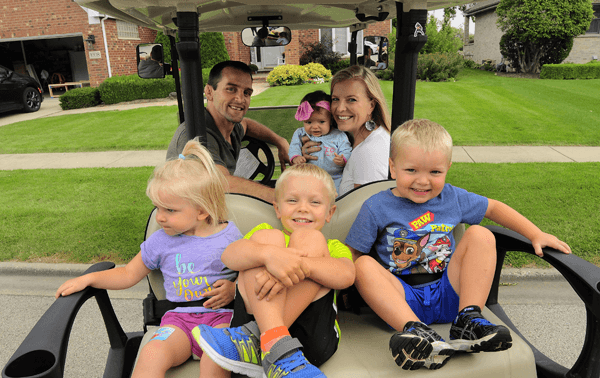 Date
Dec 03 - 11, 2019
Expired!
Gentry Family
No one would have blamed Emily and Matt Gentry if they had stayed in California.
Emily spent a good part of her 20s there, attending optometry school at Berkeley. Originally from Oregon, Matt wrestled down the road at Stanford University, where he was training for the Olympics. They had mutual friends in Palo Alto. They got married and enjoyed California for all the reasons everyone seems to enjoy California.
But in what was a return to a familiar place for Emily, the Gentrys chose to put down roots in Manteno, Ill., where they are living, working and raising their four children.
"I never thought I'd come home," Emily says. "And I never thought I'd be so happy living so close to home."
Originally, though, the couple thought this would be a temporary stop on a longer journey. After moving to Manteno in 2010, the couple had a five-year plan that was going to culminate with a move back West. Emily was going to train for a time under her father, Marc Fisher, an ophthalmologist in Bourbonnais, and Matt was going to work in Naperville and continue training for the Olympics. She did and he did, and in 2016, they explored an opportunity to move back to Palo Alto.
Instead, Emily and Matt chose to stay. Now, they say they can't see themselves anywhere else.
One practical reason is simply the cost of living. Northern California includes some of the most expensive places to live in the country. Monthly home and apartment rents in San Francisco, for example, average $3,600, and the median home price is $1.3 million. Demand is so high that residents looking for a cheaper alternative have made Sacramento, some 90 miles away, a new hot spot.
By contrast, the median home price in Kankakee County is under $150,000 — the lowest in the Chicagoland area — and Manteno is about 50 miles from Chicago's Loop.
Another reason is the opportunity. Emily could have worked as an optometrist in the Bay Area, but starting a practice in such a competitive market would be an uphill climb; and would likely require a significant commute.
Here, Emily drives the family golf cart from home to the office, from one end of town to the other. Manteno has issued permits for about 1,000 carts, and the Gentry cart features, of course, Emily's business name and logo on the side.
"Believe it or not," she says, "I have better work-life balance having my own business here than I would have had if I worked for someone else there."
But not every reason is financial or work-related. In February, Emily and Matt bought a home with a backyard overlooking the 38-acre Manteno Lake. The kids are able to paddleboat and feed the ducks. A trampoline swing hangs from a nearby tree. On one recent day, they fished off the dock for bass and bluegill.
Perhaps the biggest reason they've chosen to stay, though, are the relationships they've formed. Some of those have developed through Matt's wrestling clinics and Emily's optometry practice, where she serves patients of all ages. Others have come through meeting other families with young kids. Still others have come from socializing in the community — sometimes at PJ's Ice Cream, the popular shop downtown, and at Steam Hollow, a 10-barrel brewhouse and taproom that opened this year.
"Work is what got us here," Emily says, "but it's the relationships that have kept us here."